One night, I was about to drift off to sleep when I thought about eating these hand pies. I had raspberry jam. I had bananas. I had a jar of nutella. You get where I`m getting at, right? I said, "Why not?" to myself and fell asleep.

The next day I was thinking about this again. Since I was more…um, let`s just say right in my mind, being fully awake and not dead-tired-because-of-school and all. I had originally thought of making this with puff pastry, because C`MON, PUFF PASTRY IS SO GOOD (not, so much for our health, but eh, we shall think about this after we eat). However, I was also thinking, it`s a hand PIE, so why didn`t I think about making this with pie dough…? Puff Pastry vs Pie Dough showdown it was. (Well, at least in this scenario.)
I`m going to confess that I`m a cheat sometimes. I love to eat, but most of the time, I like finding shortcuts when I can since I don`t have all the time in the world. Sooo…I usually always have frozen puff pastry and frozen pie dough in my freezer. So bad, I know. I WILL make my own some day, when I`m feeling adventurous.
I made some with the puff pastry, then I made some with pie dough, following the same exact steps for each: Raspberry jam, then nutella, and finally, a few slices of bananas. Quickly made an egg wash to brush the tops, and in the oven they went!
This was so easy to make, I don`t even think a recipe is needed! It`s more of a combination idea for people to try out, if they felt intrigued.
Showdown results: Pie dough wins! I felt the pie dough`s texture tasted better. But! My sister, D, liked the puff pastry. Since she is one of my taste-testing guinea pig, I have to value her opinions. LOL. I really enjoyed the combination of the jam, nutella, and bananas.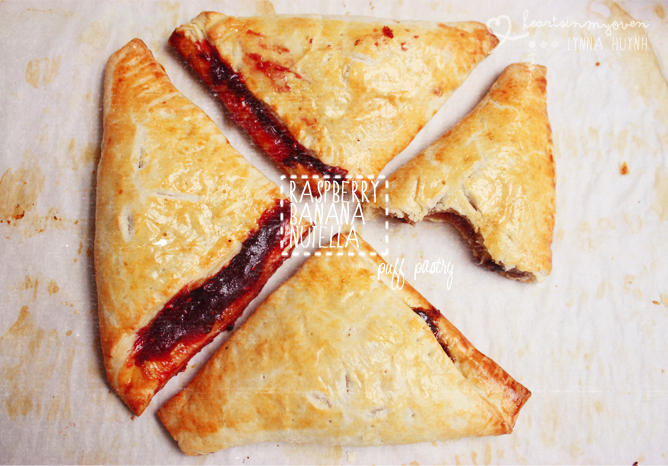 Raspberry Banana Nutella Hand Pies
§

1 sheet of puff pastry/ OR 1 pie crust
§

Raspberry jam (any fruit jam should work fine!)
2.

Thaw either your puff pastry or pie crust. Then, cut it into four equal parts. (For the pie crust, it's totally fine if the pieces are triangles instead of squares)
3.

Scoop about 1-2 tablespoon of jam
4.

Place a sandwich bag or a pastry bag in a cup and scoop about ¾ cup of nutella in the bag, cut a snip off one end. Squeeze some on top of the jam.
5.

Place 2 or 3 slices on top
6.

Fold each piece in half to make a triangle.
Using a fork, seal the edges.
7.

In a small bowl, combine egg and water. Using a pastry brush, brush the top of each piece.
8.

Bake for about 10-15 minutes, or until tops are golden brown.