I wasn`t planning on sharing this recipe just yet. I was saving it up for later, but it`s been getting really hot around here. Yeah, I know I live in Southern California and the weather here is great. But I`ll admit it, we`re a bit weather-spoiled. Which means, when it gets a little too hot or a little too cold, we I complain…a bit. However, being the cool person that I am (actually, I`m quite lame…but more stories about how lame I am later), I wanted to share with my awesome readers my experience with making David Lebovitz`s mint chip ice cream. Since it`s almost summer. 🙂
If you don`t know who he is, he`s well, famous. He wrote a very popular cookbook called The Perfect Scoop. (That book is totally on my wishlist on Amazon. Too bad Christmas is so far away. Too bad I don`t have a paying job either. LOL.)
Sorry, delicious ice cream. Back to you.
I saw David`s recipe and thought it was brilliant to infuse the milk mixture with actual mint leaves. I knew I had to give this a try, even though this was only my second attempt at making homemade ice cream and using my brand new ice cream machine my dad bought for me. [I love you Daddy. You are THE BEST♥]


I told you not to doubt the Pioneer Woman before and now I`m telling you not to doubt David Lebovitz. He`s an expert on this kind of stuff! I mean, the guy lives in Paris. HOW COOL IS THAT?!
Anyways, I totally loved loved loved this ice cream. You can definitely taste the fresh mint leaves and it tastes more herb-like compared to the mint ice cream you buy at stores/shops. Highly recommended and will definitely make this again!
I also want to mention that even though I loved this recipe like crazy, D (my youngest sister) and J (my boyfriend) thought this was only "okay". They preferred the taste of artificial mint compared to the actual mint leaves. On the other hand, a few of my friends who was able to try this thought it was really good! So give it a try, people!
And because he wrote a book called The Perfect Scoop and all…I didn`t really want to change or alter his recipe. The only change I made was that I reduced the sugar amount slightly. Thus, I will link you guys to the recipe on his lovely site. Honestly, this was a really fun and cool experience. I felt so boss with mint leaves in my milk/cream mixture. It totally looked like I knew what I was doing. LOL.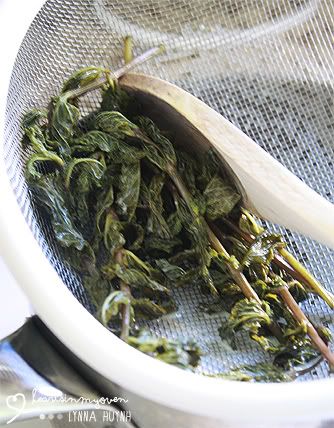 Mint Chip Ice Cream
Servings: 1 quart
Level: Easy-Medium
Total Time: ~30min + overnight cooling + 25 mins

Recipe at David Lebovitz for: Mint Chip Ice Cream